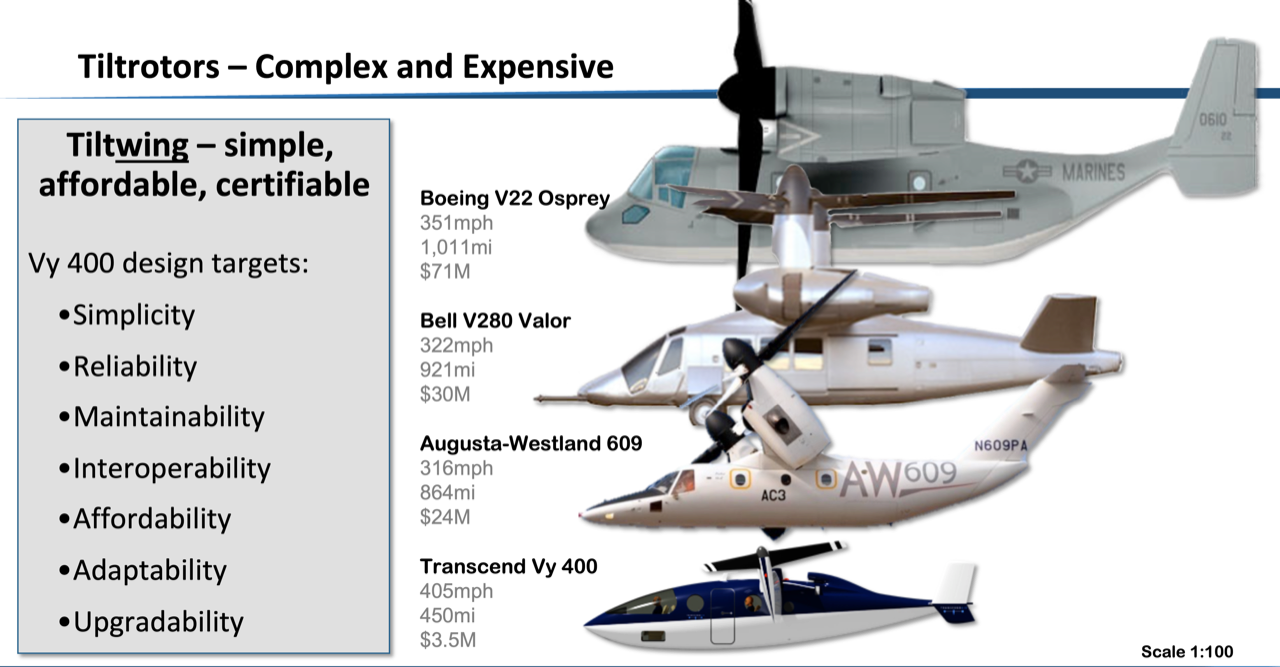 A tiltrotor by definition takes a helicopter style rotor and tilts it 90° to generate thrust for forward flight in airplane mode. Helicopter rotors are not just big propellers. The blades bend and twist flexibly, and they must be changed in pitch every rotation to achieve flight at all. This is achieved through the marvelously complex mechanisms called rotorheads.
In practice, two main rotors are used on tiltrotor aircraft. The V-22 is basically two big helicopters that have been yoked together with super complex cross shafting and clutches, then forced to fly tipped over sideways. After decades of development, it works, but at a high cost for acquisition and even higher for maintenance. The AW609, its civil descendent, shares those disadvantages.
In contrast, tiltwings use variable pitch propellers, like those on turboprop airplanes. They are an order of magnitude less complex than rotors. This saves a great deal of cost throughout the lifecycle, from certification through manufacturing to operations.
The last face-off between the two aircraft architectures was in the 1960s. We had the Canadair CL-84 and LTV XC-142 tiltwings vs the NASA/Bell XV-15 tiltrotor. Though all flew successfully, the U.S. chose to militarize the XV-15 into the V-22, leaving no lead customer for the tiltwings.
50 years later, we have chosen the tiltwing design after careful study of all past VTOL programs.
Our design benefits from three key technology advances in that time: much higher power to weight turbine engines, fly-by-wire flight control, and whole-airframe aircraft parachutes. The resulting Vy 400 design has a fraction of the complexity of the AW609, as can be seen from the latter's $24M price tag vs the Vy's $3.5M price.
The Vy is much higher performance as well, with a 4,500 fpm rate of climb at max weight in helicopter mode, and a cruise speed of 353 kts. Computer control of each individual control surface has let us manage the flight dynamics in the transition between helicopter and airplane modes with unprecedented smoothness and precision.
The airframe parachute enables improved safety versus helicopters, and has let us employ a single engine for simplicity and efficiency.
That's why we are so excited to bring the Vy 400 to life!