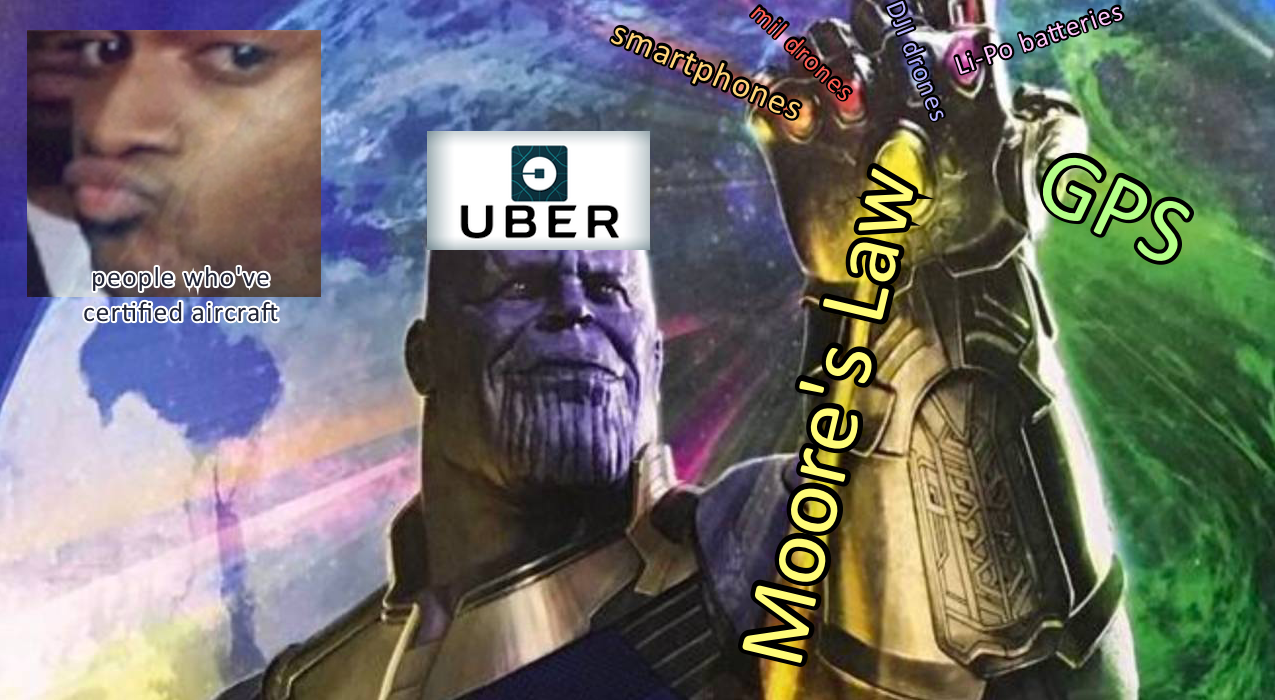 Thanos: Stark.

Tony Stark: You know me?

Thanos: I do. You're not the only one cursed with knowledge.

Tony Stark: My only curse is you.
As I've mentioned before, our aircraft, the Vy 400, is NOT an e-for-electric-powered VTOL. It IS a VTOL, meaning a Vertical Take Off and Landing aircraft, but by our numbers, electric is not yet ready for our needs, so we are going with jet engine power.
But if you spend any time around aviation these days, you can't help noticing there are a lot of electric aircraft designs being touted. One colleague said he'd counted over 200! This page at eVTOL News lists 131 programs, almost all of which are electric - and there are additional non-VTOL electric aircraft projects out there.
People ask us, why this proliferation all of sudden?
Short answer: a set of technologies have come together now to make it easy to design electric aircraft with potentially interesting economics. A technology window has opened, due to
Moore's Law and it's inexorable march to give us ever-cheaper and more powerful computing. For $100, you can buy a playing-card sized embedded computer with the raw power to run an entire vehicle, with cycles left over.
GPS in aircraft letting them know where they are in space, which is a crucial ingredient to building a self-flying vehicle that flips the pilot seat from expense to revenue.
Smartphones - yes, smartphones! They have sophisticated sensor suites built into them, with accelerometers, compasses, cameras, heat detectors, light detectors ... and they are built by the literal billions. That means those suites can be built into other gear for dirt cheap.
Military drones and their compelling advantages have led to advances in remote operation, autonomous aircraft systems, electric actuators, sensor integration, and more.
DJI and other brand consumer drones have taken the dirt cheap sensor suites from smartphones, plus some of the control techniques from military drones, to become a whole new class of consumer goods now produced in the tens of millions. This has driven down the cost of related flight tech, including high power and light weight electric motors, thereby driving demand for the last enabler...
Li-Po and Li-Ion batteries. Not just drones, of course, but smartphones and other personal gear have helped create a global industry that is producing comparatively low-cost batteries that can power all sorts of useful (small) gadgets - and even electric cars.
So, basically, a lot of people have looked at the drones they got for their birthdays, and have said, "Saaaaay ... if I just make this bigger, it could FLY PEOPLE!"
And then there are the execs at Uber, who apparently said, "You know, if someone makes people-flying drones, WE CAN SELL RIDES IN THEM!!" Uber then leant their considerable brand power to the encouragement of aircraft makers, with significant success.
But unlike in the PC world, you can't just grab the latest tech, slap some software on it, ship it fast, and let your customers be your testers. Buggy OSes and malware-ridden laptops are an annoyance; buggy aircraft ... cannot be allowed. The FAA will see to that.
So a reckoning is coming for the infinitude of electric designs. Certification will not be a snap - we'll see how many make it.